Equipping Young Peacemakers initiative spotlight: Lybotics
written by EYP participant Mohammed Zaid
I have been inspired by my fellow Equipping Young Peacemakers participants and their work on quality education. My initiative in Libya blends educational outreach with technology to enhance gender equity and sustainable development. 
LYBOTICS is an active force in the field of robotics and STEM education, empowering more than 1000 high-school students and 50 mentors from 17 cities across Libya. Our teams build a competition robot, learning by doing and having fun while developing their capacities for change and leadership. We invest in kids who are ready to embrace the jobs of tomorrow and be sustainable changemakers.
Achieving inclusive and quality education for all is critical, especially because education is one of the most powerful and proven keys for sustainable development. Through our robotics teams, we provide equal access to free STEM training and innovation exploration, eliminate gender and wealth disparities, and support universal access to higher quality education for disadvantaged youth in Libya.
We want to inspire young people to be science and technology leaders and innovators, helping Libyan communities shine. By engaging kids in exciting mentor-based programs that build their science, engineering, and technology skills we inspire innovation and foster well-rounded capabilities. Our participants boost their self-confidence, communication, and adaptability.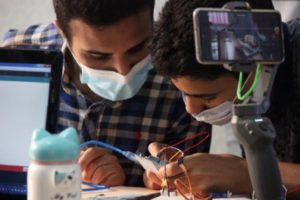 Friendly, supportive competition produces innovation. The LYBOTICS community practices "coopetition" as a value alongside gracious professionalism. Coopetition involves learning from teammates, teaching teammates, and learning with mentors. Teams and everyone compete to cooperate. We primarily focus on human resources and illustrate a shift toward the inclusion of technological culture as a central feature of revitalization. With this approach, we support peacemaking between Libyan communities even in the midst of ongoing conflicts.


LYBOTICS' objectives lie in the contribution, support and development of the following:
STEM and Social entrepreneurship
Equal provision of resources to all deprived groups of society
Education and innovation
Provide quality Education to the illiterate section of the community
Humanitarian work
Governance and civic engagement

Our core values are:
Discovery: We explore new skills and ideas.
Innovation: We use creativity and persistence to solve problems.
Impact: We apply what we learn to improve our country
Inclusion: We respect each other and embrace our differences.
Teamwork: We are stronger when we work together.
Fun: We enjoy and celebrate what we do!
It was a challenge to start LYBOTICS. It continues to be a struggle to operate our programs sustainably, given the multiple obstacles we face. But together with our supporters, we are managing to create a community of talented high school students learning through robotics. Our hope is that one day, in Libya, education will be a top priority – and we're willing to work to make that hope a reality. Only then our country will have a chance to really shine.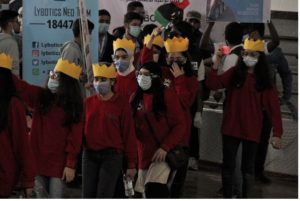 For more information: