Equipping Young Peacemakers initiative spotlight: DoctorX
written by EYP participant Ahmad Bassam  
The last SDG Roundtable of the Equipping Young Peacemakers program discussed "Green Power: Building Sustainable Cities". After learning from Omar Saif (the Regional Economic Advisor on Water, Energy, & Food Security for the Dutch Mission in the United Arab Emirates), I had the chance to share my work installing solar panels as renewable energy sources for faith communities in my country. In this blog, though, I want to highlight another tech-driven aspect of sustainable communities: equitable healthcare.
In 2017, I began a project supporting refugee healthcare. My home country of Jordan is a cultural melting pot, and I have the opportunity to interact with dozens of nationalities on a daily basis. Unfortunately, many communities do not have access to equal resources within or outside of Jordan.  DoctorX was born out of a desire to help address these inequities. In a very short period of time, an exceptional team of volunteers rallied around to help. Together, we built something with the support of communities at the TECHFUGEES Global Summit, Google Cloud Conference, and more.


DoctorX is an open source, multilingual medical platform that enables refugees and displaced persons to track their medical records in multiple languages. This helps to reduce communication errors when visiting a physician in their host country. The DoctorX ethos is that everyone deserves access to good quality healthcare, no matter where they were born, where they are currently living, and what refugee or citizenship status they hold. Healthcare is a human right, not a luxurious service. The COVID-19 pandemic has shown us just how vital – and interconnected – this right is.
Building solutions that target healthcare is not an easy task: Everything related to the medical field is expensive and accompanied by a great many standards and codes. But we also know it's critical. DoctorX targets communication in order to help overcome some of these challenges. The solution came from evidence-based observations in Jordan: When refugees went to the doctor's, they were almost always seeing that physician for the very first time. This increases the time and resources that have to be spent per visit. Doctors are thus able to see fewer patients each day, and wrong decisions are easily taken as a result of avoidable miscommunications or missing data.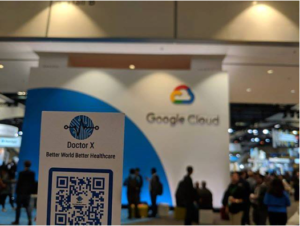 This is all exacerbated by accent, dialect, and language differences…and that's where DoctorX comes in, bridging the gap between doctors and refugee patients. DoctorX stores all of a patient's medical records in a decentralized manner on their mobile phone. The records are then translated, available for any doctor's visit. It is, in essence, a "multilingual medical passport".
Developing, testing, and refining this software required a team of volunteers from all different kinds of backgrounds. We launched in 2020 on the Google Play Store, GDPR-compliant (European data regulations) and open source. It was important to us that we published open source, because of our rights-driven approach. Other entities working in refugee healthcare should be able to use this model as a starting point, making the most of limited resources around the world as we strive for truly universal healthcare and refugee justice. 
And we'd love for you to get involved! Our team is ready to help customize a version of the DoctorX platform for communities beyond Jordan and the Middle East. We are all volunteers in this program, and would highly appreciate others who might be able to contribute to this not-for-profit venture. Together, we know that we can use Tech For Good as we realize the Sustainable Development Goals for all. 
For more information: